PHOTO: What the first Green Office in the financial sector in Latvia looks like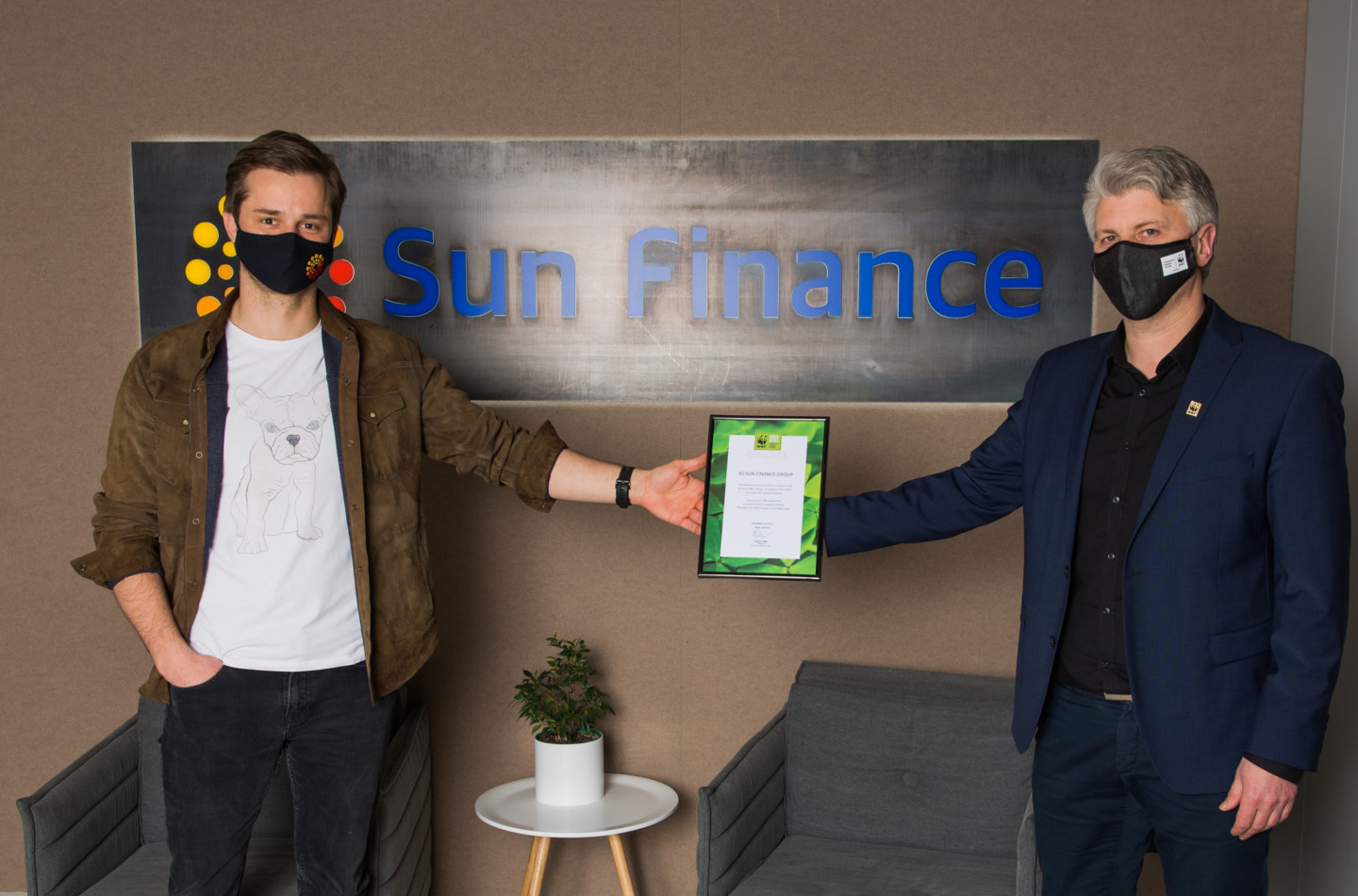 Sun Finance founder and CEO Toms Jurjevs with PDF Latvia director Jānis Rozītis
Sun Finance becomes the first financial technology company in Latvia to be awarded the Green Office certificate by the World Wide Fund for Nature (WWF). The obtained certificate indicates that the company reduces its ecological footprint and environmental impact in its business operations.
The Green Office is a WWF program designed to adapt to more climate-neutral working conditions, thus reducing the waste of natural resources. Such an environmental management system motivates companies to pursue a 'green lifestyle' through a number of practical initiatives in the workplace, including the introduction of sustainable and energy-efficient solutions.
"Europe, including Latvia, aims to achieve climate neutrality by 2050, which means reducing emissions, restoring nature, and supporting a fuller circular economy. Spending on climate action in the near future will determine the opinion of both investors and the public about a modern business approach. Being conscious of the responsibility in the common ecosystem, the implemented steps allow us to become the first player in the financial industry to create a sustainable business center in the Skanste area," says Toms Jurjevs, CEO and Founder of Sun Finance.
Upon receiving the certificate, Sun Finance's head office in Riga sets three key priorities: more efficient use of electricity, sorting of various types of waste, and regular communication with employees, informing them about international activities related to environmentally responsible behavior.
"It is important that entrepreneurs in Latvia follow the development of international legal regulations in the field of environment, understand their significance, and are ready to even anticipate events and act accordingly. It is particularly important that the initiative takes place in the financial sector. The World Wide Fund for Nature is pleased that the Green Office program has become an important and practical tool for the company to improve its environmental performance, which can be viewed as a progressive business card in the business sector," says Jānis Rozītis, the head of WWF Latvia.
Sun Finance has so far been characterized by innovative solutions, complemented by more energy-efficient methods such as sensor lights, the default method for work computers to reduce electricity consumption. In turn, information campaigns will be organized for FinTech employees, drawing attention to the implications of using personal transport in regards to creating a more climate-neutral environment.
About the Green Office"
Established in 2002 by the World Wide Fund for Nature (WWF) in Finland, the Green Office is an environmental program for offices that took on a new look in 2019 and helps companies, the public sector, and NGOs not only improve environmental awareness but also reduce their ecological footprint, greenhouse gas emissions and costs, such as electricity, heat, and waste consumption. Today, the Green Office program comprises almost 200 companies and organizations in 5 countries.
About Sun Finance
Sun Finance is a financial technology company founded in 2017. The company operates in seven countries and on three continents, while its head office is located in Riga. Sun Finance now has over 4.1 million registered customers and more than €750 million in loans since its inception, making Sun Finance one of the fastest-growing consumer finance platforms in Europe. Sun Finance employs over 730 people, 148 of whom work at the company's head office in Riga.