Export of financial services has been successfully destroyed
Thanks to the so-called overhaul of the financial sector and the transformation of the once sleepy office of Burkāns into Znotiņa's Financial Intelligence Unit, the Latvian state has basically given up a previously important source of income for banks - the export of financial services.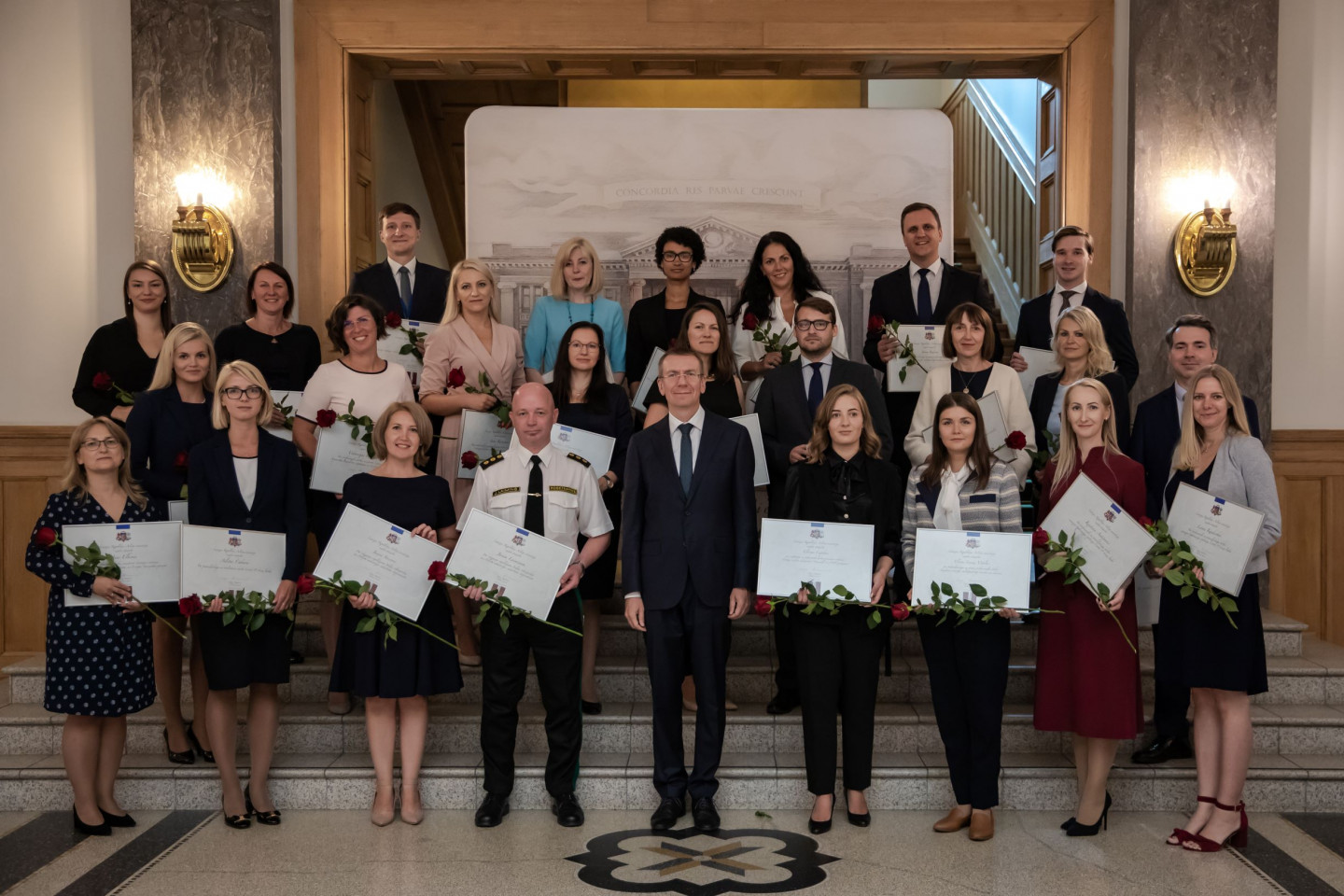 Home Affairs officials and head of the Financial Intelligence Unit receiving letters of commendation from the Ministry of Foreign Affairs
Practically all transfers from third countries are now considered toxic, as they could theoretically be linked to money laundering and supporting terrorists. This approach has led to a dramatic decline in the financial services export sector. As Neatkarīgā has already reported: "Krišjānis Kariņš's government 'gifted' $750 million in export earnings to Lithuania and Slovakia".
What is the export of financial services?
It is basically the daily work of banks, only with foreign customers. Banks carry out transfer orders from foreign companies and investors and grant loans, receiving commission and interest. In 2017, Latvia's exports of financial services (both to the EU and third countries) amounted to almost half a billion (495 million) US dollars. In 2020, Latvia's exports of financial services were only 154 million dollars. After Latvia followed the US order and gave up this money, other European countries have taken this money for themselves. Respectively, the money of both third country and EU customers is still serviced, but not in Latvia. This redistribution of the market has taken place under the leadership of the head of the Financial Intelligence Unit Ilze Znotiņa, and she has been awarded a state award for it. Well, not quite the Order of the Three Stars, and she did not get to stand in the first row in the celebratory picture either. The main intelligence of the state has received a letter of commendation from the Ministry of Foreign Affairs for popularizing Latvia's image abroad and contributing to the strengthening of the statehood of the Republic of Latvia.
Very expensive popularization
What does the industry itself say about such an expensive popularization of the image of Latvia? At the very beginning, when the big collapse in the Latvian banking sector was just approaching, there were still some brave people who questioned the need for the state to give up so much money. For example, in 2016, the financial and risk consulting company Deloitte Latvia - probably not only in the interests of its clients - tried to deter the government from executing the US order. To influence public opinion. The company's partner Igors Rodins said in a public statement that the export of financial services is an opportunity for Latvia, not a threat:
"Exports of financial services is a sector that makes a significant contribution to our country's GDP, but which people don't discuss publicly. It is probably for this reason that the industry is shrouded in several myths and is not properly valued. (..) We have good potential to become a financial center for the regions of Eastern Europe, the Southern Caucasus and Central Asia. Our historical links with these regions, language skills and experience give us an advantage in export markets in this direction." He said this at the end of 2016, when he also posed a rhetorical question about whether Latvia is really ready to give up 2.45% of the gross domestic product: "In the area of financial services exports, there is now a choice to abandon or significantly reduce non-resident deposits and lose around 2.45% of the country's GDP, or to develop financial services exports and solve the country's socio-economic problems using the sector's income." And the government really did it.
Why they think it's good
At present, Latvia has effectively withdrawn from the financial services export business, while other European countries continue to serve money from third countries and thereby increase their prosperity. But it is not like banks are protesting loudly about closing this niche. Probably because they have already suffered enough from the consequences of the "overhaul" and do not want to stand out to the supervisors, they are at least publicly expressing their full support for the current fight against money laundering and terrorist financing. The only ones who object are lawyers whose clients' money is nationalized without any evidence-based facts.
In connection with the dramatic decline in the export of financial services, Neatkarīgā asked for a comment from the Finance Latvia Association. (This non-governmental organization unites banking institutions and defends their common interests.) Has such a situation been good or bad for the Latvian economy? Does Latvia still have reason to believe that all money from third countries is toxic if other countries continue to make money from it without any prejudice? Has Latvia given up this money permanently?
Comment from the financial sector
The position of banks is explained by Kārlis Danēvičs, Co-Chairman of the Credit Committee of the Finance Latvia Association:
"It is logical that in the context of the global economy, one country serves the customers of another, thus exporting financial services. However, this is only sustainable if the risks are adequately managed - the country in which the particular financial institution is located is not endangered (for example, the historical burden on the Latvian state budget from Parex bank's loans in Russia and Ukraine), and no actions are taken to promote financial crimes.
In the case of Latvia, historically we had serviced transactions from which other countries kept their distance. This was not only ethically unacceptable but also threatened Latvia's geopolitical affiliation with Western Europe and its values. On the one hand, Latvia expects a lot from the European Union and NATO, but on the other hand, it was unable to comply with international norms of financial behavior, at the same time directly endangering itself.
Latvian financial institutions continue to export financial services, this has not disappeared anywhere. Another thing is that Latvia is no longer a simple payment center that services shell companies of high and virtually unmanageable risk, which, unfortunately, is how it was internationally recognized.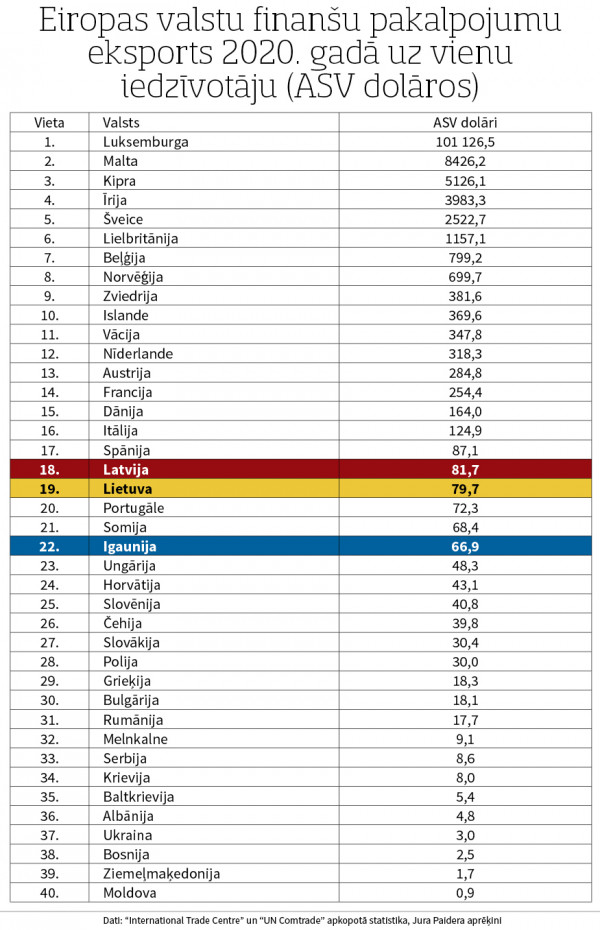 To the best of our knowledge, such countries have not been selected as their target customers also by the countries listed in the table. In addition, Malta is on the FATF's gray list. It should also be noted that most of the countries listed in the table also have a strong, export-oriented real sector, which is also served by their financial institutions, thus also contributing to financial export performance.
In the long run, Latvia definitely has the opportunity to make a comeback and ensure the export of financial services - one that is based on our knowledge, technologies, as well as the advantage of the capital Riga being a city of international significance, which has always had a high level of knowledge and experience working with other countries. The fact that Latvian financial institutions no longer serve virtually unmanageable foreign risk, shell companies are prohibited, which do not have an economic nature and restructure their customer portfolio by offering financial services with higher added value (asset management, securitization, etc.), while consistently and professionally applying a risk-based approach to combating financial crime is undoubtedly good for the whole Latvian economy and international reputation.
It also provides a basis for further organic growth and innovation in financial services export.
A good regional example of financial services export is Sweden, which, as a major export country, supports its producers in other countries, for example by even financing their capital goods in developing countries and using its good reputation and predictability to act as an intermediary for international investments that are willing to be listed on a Swedish stock exchange, while the companies themselves invest outside Sweden."
*****
Be the first to read interesting news from Latvia and the world by joining our Telegram and Signal channels.