Director Edmunds Freibergs: On violence against the human soul
"The opportunity to work, of course, in compliance with all safety rules, is the best thing at the moment, because downtime is quite difficult for theatre people to tolerate, on the verge of spiritual death," says director Edmunds Freibergs. His daily life is spent in Valmiera for the second month now, where the director has staged the play A Streetcar Named Desire at the Valmiera Drama Theatre (VDT), that was written in 1947 by the American playwright and writer Tennessee Williams.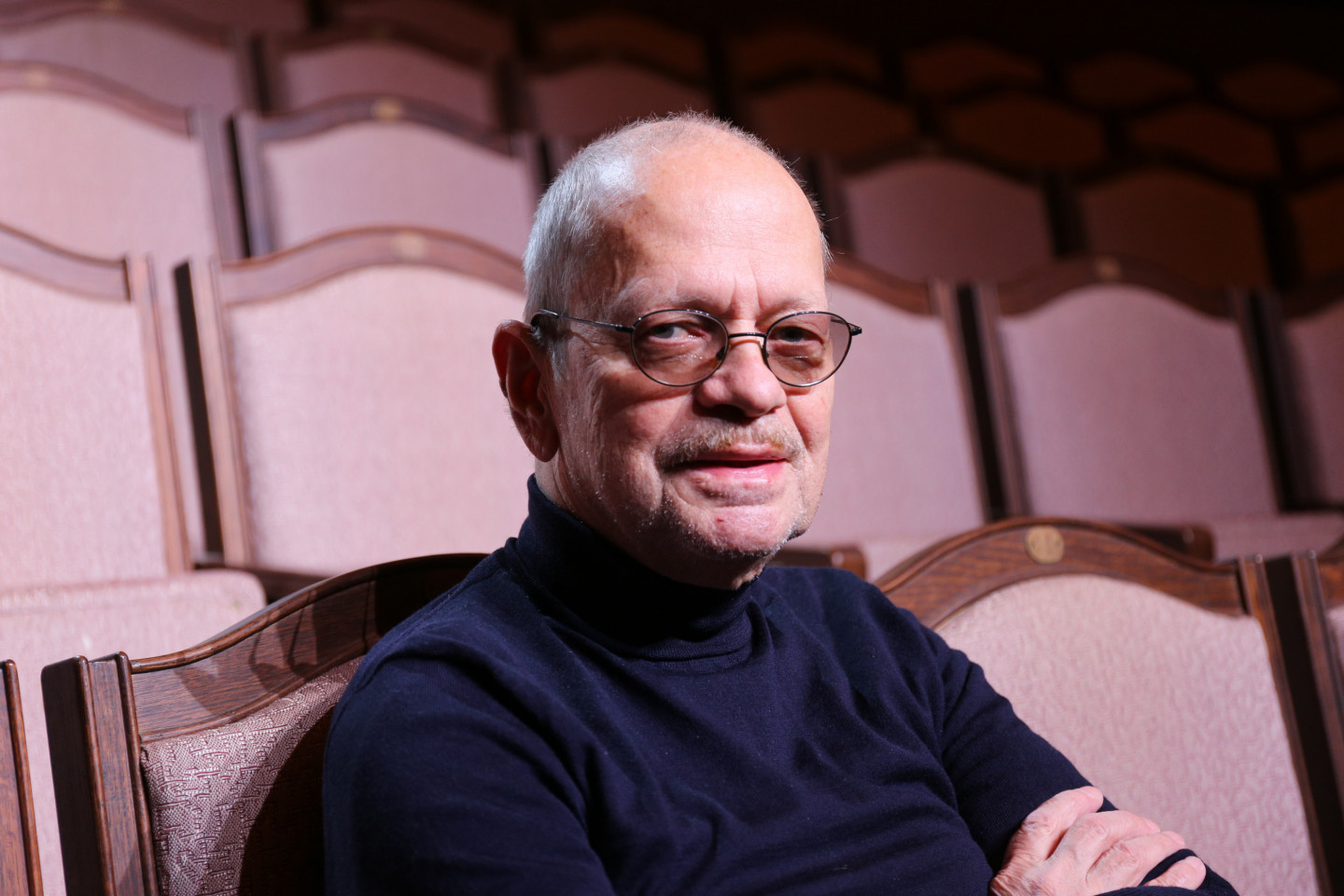 A NEW CHALLENGE. "Every new creative work is a challenge because you never know how the process will develop. And thanks to the fact that we were all focused and ready to give ourselves fully to work, that no external conditions bothered us, the work process was fruitful," says director Edmunds Freibergs. He has staged Tennessee Williams' most popular play A Streetcar Named Desire at the Valmiera Theatre
The facts about Tennessee Williams' play A Streetcar Named Desire speak for themselves: after its premiere in New Haven (USA), the play became a hit the same year, winning acclaim in all American theatres wherever it was staged, in 1948 it also received the prestigious Pulitzer Prize, and the film of the same name and starring Vivien Leigh and Marlon Brando, in 1951 brought the play world fame.
To know me is not to love me
Having lost everything in life, the fragile and broken dreamer, the elusive Blanche, still hopes to find shelter with her sister Stella as a last resort. Tennessee Williams said during the writing of the play, referring to himself and also to Blanche: "I would guess that chance acquaintances, or strangers, have usually been kinder to me than friends - which does not speak too well for me. To know me is not to love me."
Ieva Puķe, Inese Pudža, Tom J. Benedict (real name Toms Liepājnieks), Rihards Jakovels, Māra Mennika, Kārlis Freimanis, Ģirts Rāviņš, Aigars Vilims, Uldis Sniķers, and Māra Vīgante will live through the VDT version of A Streetcar Named Desire (translated by Inese Mičule, edited by Ieva Struka).
The scenography of the show was created by Mārtiņš Vilkārsis, the costumes by Ilze Vītoliņa, and the lighting artist is Oskars Pauliņš.
Dedicated to the actress
"We have been working on the show since October 6, and now it is practically ready to meet the audience. We'll show it to the theatre management, colleagues, then put it on pause and wait for the moment when we can meet the audience. The hopeful plan is that it could happen already in January, but we will see it when January comes," says the director of the new production, emphasizing that the opportunity to work, of course, in compliance with all safety rules, is the best thing at the moment, because downtime is quite difficult for theatre people to tolerate, on the verge of spiritual death.
Former Valmiera Theatre actor and director Edmunds Freibergs became interested in continuing his work last year, when after 45 years he returned to this theatre to stage the play Acapulco Madame by the French playwright Yves Jamiaque (1976) with Ieva Puķe and Imants Strads in the lead roles.
"After playing there for four years, I left Valmiera to go to Riga in 1974. When I returned there last year and met the wonderful actors of the Valmiera Theatre, I realized that I wanted to work there again," says Edmunds Freibergs.
Asked about the choice of material, the director reveals that, first of all, this work is his dedication to one of the best actresses of her generation - Ieva Puķe. And secondly, it is, of course, a very good and rich drama that allows the actor to grow.
"At times, it seems to me that now is a time of little plays - performances about the current social problems are being staged, but I do not think that an actor can develop very much on the basis of today's Latvian dramaturgy. On the contrary, the actor himself tries to enrich this work by giving parts of himself to it. But Tennessee Williams is a classic of 20th century dramaturgy, a wonderful material on which an actor can grow and improve."
The story of a fallen angel
"I have never tried to update my plays, but strangely, without thinking about it, our A Streetcar Named Desire is relevant today. Currently, the topic of violence is very topical in society, and our show is about violence against the human soul. That's how I could formulate it," says the director of the new production. He adds that in this play by Tennessee Williams, which is one of his best plays, if not the very best, there are a lot of themes, including how body and spirit coexist in humans. But the most important thing for the director is violence against the human soul. The story of a fallen angel.
"It's important to me personally, and I think for the ensemble too. In addition, the actors have very beautiful roles in this work," says Edmunds Freibergs, for whom work at the Valmiera Theatre is a nice reunion with his "children".
"My long pedagogical experience allows me to call many actors my own children. Both Ieva Puķe, who once played in my productions of Sfinksa, Indriķa Hronika, and Skroderdienas Silmačos at the Latvian National Theatre, where she was Ieviņa. As well as both gentlemen, who now play the main male roles in A Streetcar Named Desire - Toms Liepājnieks (Stanley) and Rihards Jakovels (Mitch). And Inese Pudža, who plays Stella, Blanche's sister, also studied directing, for which I taught a bit of acting. Yes, it is practically a meeting with my former students again," Edmunds Freibergs is pleased.
A born optimist
The director says: during the spring downtime, at one time there was a feeling that there will be no work this year, that you will have to sit at home and think about life, but the new theatre season has become very active. In the autumn, Edmunds Freibergs together with the actors of the New Riga Theatre Andris Keišs, Kaspars Znotiņš, and Sandra Kļaviņa recorded a very extensive play of an original dramaturgy novel at the Radioteātris, there are still "finishing touches" left, and the show will have its premiere at the end of January or the beginning of February.
At the end of January, the director will start a new work at the Latvian National Theatre, where he will direct a play based on the outstanding French writer Stendhal's novel The Red and the Black (1830), and its premiere is scheduled for April.
"The load is quite heavy," Edmunds Freibergs concludes. And when I say that in that case there is no time for gloomy thoughts, which many people talk about in the dark autumn/winter period. "No, no, by no means! I was born an optimist. I also had no depression during the spring emergency situation. I accepted it as a time of relaxation and reflection," says the director.
Everything can be said in two sentences
This time makes him think that part of society has problems with thinking that already borders on psychiatric health issues. "Many people say that covid does not exist, that it is an invention of some mafia. Where do such thoughts even come from?! It's such nonsense! I have heard it said: we are drowning in the unknown, no one explains anything to us… What is there to explain?! It is a dangerous virus and each of us must do everything we can to prevent it. These are two sentences we need to know!" believes Edmunds Freibergs.
The "conscientious" distributors of false news, he says, also act, apologies, on the basis of a sick mind. "This is terrible. This is a dangerous sign. And it annoys and worries me," he does not hide. Therefore, fellow people are invited to think about what is key in situations where people are at risk - to be united, to stay together.
"But there are those who, with the "abilities" of their minds, try to divide us, confront each other, saying that the government is stupid and powerless, the Saeima is thieving and corrupt, the people are being deceived and will be chipped. This is very sad. It worries me. I would like to shake such people: wake up! What will you achieve by finding fault with others?! Now the fault has been found in the government - poor communication, nothing is explained… What is not clear to you yet?! Everything is clear to me: a dangerous virus is raging, and we must protect ourselves from it!" says Edmunds Freibergs, adding that for safety reasons, the Christmas tradition of gathering the whole family, children and grandchildren with his sister in Sloka this year is likely to be broken. "Everything is under a big question mark right now. If we can't meet, we'll celebrate in our own homes and we'll meet when we're allowed," he says, and he doesn't make a huge tragedy out of it.
EDMUNDS FREIBERGS
- Actor, director, performing arts teacher
- Born on August 12, 1948 in Riga
- Chief Director of the Latvian National Theatre (1995‒2010)
- Professor of the Latvian Academy of Culture (LAC) (since 1998)
- Education: Riga 4th Secondary School (1966), Jāzeps Vītols Latvian State Conservatory (JVLVK) actor course (1970) and JVLVK directing specialty (1983)
- From 1970 to 1974 he was an actor and director of Valmiera Drama Theatre (VDT), in 1974 he became an actor and director of the Latvian National Theatre
- From 1975 to 1986 he taught acting at the JVLVK Faculty of Culture and Arts; from 1986 to 1993 he was the head of the Department of Theatre Arts; in 1993, he became a teacher of acting at the Screen and Theatre Arts Department of the LAC
- Internship in Paris, Lucernaire Theatre, joint projects with French directors
- Awards and nominations: Andrejs Pumpurs Prize for the Ar Būdu Uz Baznīcu (1987), A. Amtmanis-Briedītis Prize (1991), nomination "The best production of a Latvian author's work of the year" for R. Blaumanis' Skroderdienas Silmačos (1994), nomination "The best production of a Latvian author's work of the year" for A. Upītis' "Zaļā zeme" (1996), nomination "Best musical" for Z. Liepiņš, K. Dimiters' "Parīzes Dievmātes katedrāle" (1997), "Spēlmaņu nakts 2010/2011" award "Actor of the Year in the Secondary Role" for the role of Alexei Karenin in the play "Anna Karenina", Jēkabs Duburs Award for Lifetime Contribution to Stage Pedagogy (2017)
- Officer of the Order of the Three Stars (2005)