Director Oļegs Šapošņikovs. One step higher
"The theater has been very lucky with state support right now. Of course, we are not happy to exist without spectators, but thanks to the financial support provided by the Ministry of Culture, cultural life does not die, and that is a huge joy," says director Oļegs Šapošņikovs, Chairman of the Board and Artistic Director of Daugavpils Theater.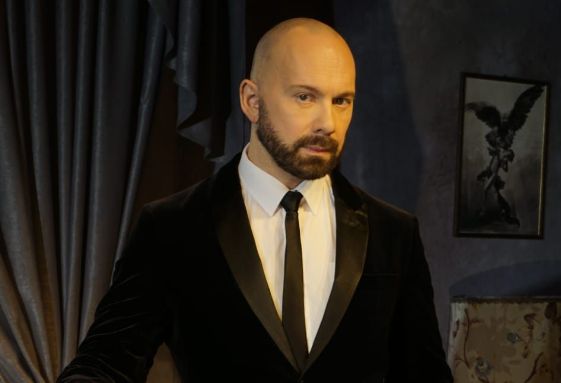 EACH IN OUR OWN DIFFERENT QUALITY. "I have a feeling that when we meet our audience, we will be a somewhat different theater than we were before. Our motto remains the same: Daugavpils Theater is a theater for spectators. It will not change, but the quality will be different. Higher. And so I would like to say that we will meet each other in our own different quality and start life anew," says the Head of Daugavpils Theater Oļegs Šapošņikovs
What is currently happening at Daugavpils Theater?
The fact that spectators do not have the opportunity to visit the theater does not mean that we have gone dark. Many new performances are made in all state theaters, including Daugavpils Theater. And if a year ago it sounded a little banal, now I can definitely say that the world will emerge from this pandemic changed. Because, despite all the difficulties, this time was an opportunity to stop and think. And creative people have reevaluated many things - what we have done so far and what we should do in the future. I know that my colleagues in other theaters have also reviewed their repertoire and are very seriously considering how we will work in the future. Perhaps this pandemic for our entire planet is a sign from the universe that we need to stop, look to the right, to the left and try to understand where we have been running all the time. And it's very important for theater. Of course, my theater - I apologize for calling the Daugavpils theater my own theater after ten years of running it - as well initially was in shock. But, having recovered from it, we used this time very usefully to think calmly about where we are going and why. As the Russian saying goes "Нет худа без добра" ("There is no evil without good") - this is a very good description of this time.
At the beginning of the season, just before the second wave of the pandemic, you worked on two "Seagulls" but did not get to show them to the spectators.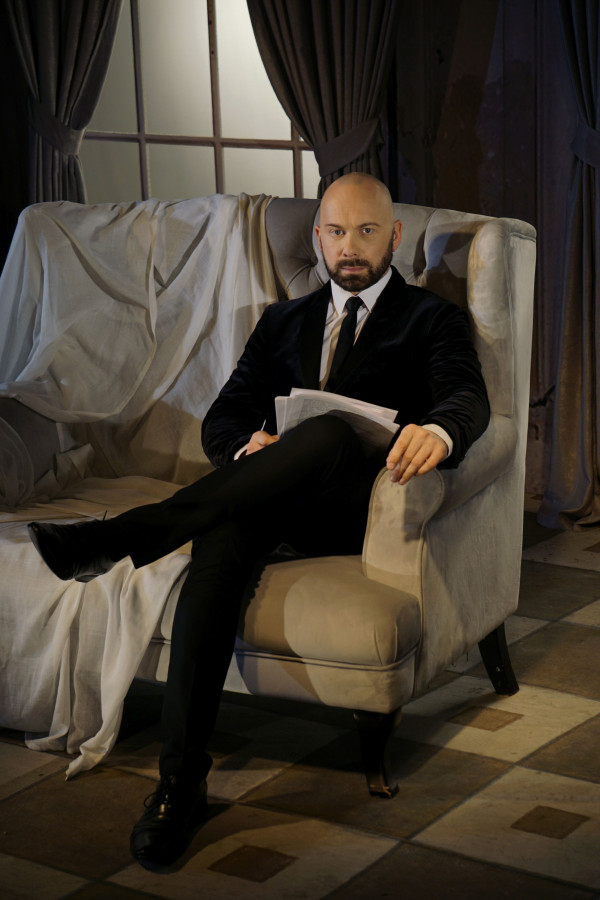 Yes, in November I again staged "The Seagull" - supplementing the work of Anton Chekhov with "The Seagull" by the famous Russian detective writer Boris Akunin, which he wrote as a continuation of Chekhov's "The Seagull". I tried to combine these two materials and make a diptych, dividing one "Seagull" into two evenings. Tickets had already been sold out, but after the dress rehearsal of the first show, the lockdown started, and unfortunately no spectators have seen the show. But considering that we started working on this show already during the first lockdown, it gave me the opportunity to consider many things with no hurry and, if I may hope so, to move one step higher in my creative development. I think that I succeeded, but unfortunately there is no other objective assessment. So, of course, I look forward to seeing how this work is evaluated by viewers and theater professionals.
Are there any hopeful predictions when Daugavpils Theater could meet its audience?
It seems that we will meet our viewers only this autumn, because May is already here, and it does not seem that anything will change much in June. But in the summer, even if it is allowed, our theater will unfortunately not be able to work, because we are planning major repairs. Daugavpils City Municipality has allocated quite a lot of money for the modernization of the backstage, and it is planned to complete it only in September. Therefore, I can already predict that we will not see our audience before September.
Can you already reveal what surprises will be in store for your viewers in the autumn?
I have a feeling that when we meet our audience, we will be a somewhat different theater than we were before. Our motto remains the same: Daugavpils Theater is a theater for spectators. It will not change, but the quality will be different. Higher. And so I would like to say that we will meet each other in our own different quality and start life anew. Much like a birthday, which we all know serves as a point of reference and at the same time as an opportunity to start things anew. But when it comes to new productions, in the autumn we will open the theater with five brand new performances. There will be the already mentioned diptych of Anton Chekhov and Boris Akinin's plays "Seagull. Investigation" ("Kaija. Izmeklēšana"), which will consist of two performances on different evenings: "Seagull 1" and "Seagull 2​​." [Both performances will be in Russian.]
My second play, "In the Footsteps of the Bear of Fortune" ("Pa Laimes lāča pēdām"), is a musical tale for adults, where antiquity goes hand in hand with the present, and the miracles of legends meet today. This production was based on the motifs of Andrejs Upītis' "Boys of the Moss Village" ("Sūnu ciema zēni") as adapted by Monika Zīle. [The performances will be in Latvian and Latgalian.]
There will be a play for teenagers, staged by young director Endīne Bērziņa based on Annette Mierswa's "Samson's Journey" ("Samsona ceļojums"), and it tells about topics that often remain unspoken and not fully understood: family relationships, friendship and the pain of loss. The protagonists of the show will try to talk about it through a journey saturated with adventures, tricks and scientific experiments. This production will be the debut of Endīne Bērziņa, a graduate of the Latvian Academy of Culture, on the stage of Daugavpils Theater. [Performance in Latvian and Latgalian.]
She has also staged her diploma work with us - a part of the play "Provincial Anecdotes" ("Provinces anekdotes") by the Russian playwright Alexander Vampilov, which depicts absurdly hilarious but very realistic events in a provincial hotel. [Performance in Latvian.]
In the autumn, director Dmitrijs Petrenko will also make his debut at the Daugavpils Theater by staging Inga Ābele's play "The Dark Deer" ("Tumšie brieži") written in 2001, which was the author's successful debut in drama, has gained the attention of professionals both in Latvia and abroad and has experienced several stage versions. [Performance in Latvian.]
Increasingly, the public is wondering whether the themes playfully coded in George Orwell's anti-utopian novel about freedom, the manipulation of power, the paradox of social equality, and the human desire to be happy do not coincide with recent events in the world. Director Viesturs Roziņš will present his vision to the audience in the play "Animal Farm" ("Dzīvnieku ferma"), in which the animalistic mixes with the civilized in a grotesque game of living happily. The musical design of the production was created by composer Jēkabs Nīmanis. [The novel was adapted to a play in Russian by Oļegs Šapošņikovs.]
Does your daily life mostly take place in Daugavpils and Daugavpils Theater?
Of course, especially in this time of restrictions. For obvious reasons, I can't even visit my parents who live in Riga. These are crazy times. But - I am very glad that I have the opportunity to participate in another interesting creative project, and that is the creation of Daugavpils cultural development program 2021-2027, because, as you know, our city is also taking part in the competition for the title of European Capital of Culture 2027. I am actively participating in this project, which, in my opinion, gave all Daugavpils creative minds a fantastic impetus to look from a distance at what we are doing here and where we are all going together. This is a very important moment because it is no secret - and we self-critically acknowledge this - that so far we have been somewhat lacking a common vision and an ambitious goal. But the main thing that we are aware of is that it can be fixed, we still have room to grow.
Does this project have any connection with Daugavpils Theater?
Yes. The development of this program has given a lot not only to myself, but also to the theater. If so far Daugavpils Theater as a state institution has unfortunately practically not cooperated with the municipal Culture Department, then within the framework of this program we have developed a common vision of what we could do together in the future. I am proposing to develop what I have called the "reincarnation of art", which means that we would like to re-embody or revive the cultural values ​​that have existed in this city but have unfortunately been lost over time.
For instance?
As one of the examples of art reincarnation, I can mention Daugavpils Mark Rothko Art Center, which is a multifunctional center of contemporary art and culture in Daugavpils Fortress, a unique and inspiring place for various creative expressions. And although Mark Rothko [1903-1970] is more associated with America, his hometown is Dvinsk, the Russian Empire, now Daugavpils. It is little discussed internationally, but by emphasizing it here, we are giving his aesthetics a chance to be alive and accessible.
But with this example, I do not mean to say that it is necessary to build new centers, because we are not just talking about a specific institution. I am thinking more of intangible ideas, and one of them is to restore the culture of exquisite nightlife in Daugavpils, namely to create a professional cabaret program. Of course, this is not the task of the repertoire theater, but it is possible in cooperation with the city and taking into account the theater's capacity and the possibility to stop the drama theater during the summer. Of course, by also inviting guest artists. Because when it comes to nightlife, I think it is very important that it is not associated with drinking and clubs with questionable reputations. And this cabaret culture would be associated with another outstanding personality born in Daugavpils - the composer Oskars Stroks [1893-1975], who had played in a sophisticated cabaret.
Have you planned to stage another musical at the Daugavpils Theater after the brilliant success of the musical "Jane Eyre"?
The only thing I can reveal for the time being is that we have agreed with Maestro Raimonds Pauls on a new musical performance in Daugavpils, which I hope to be a director of. It is currently under development. The work itself will be very original, but it will not be what we think of when we hear that Maestro will write music for a theater performance. No. But let the details remain a mystery for now.