Is Andris Ramoliņš' business based on raiderism? Interview with Dzintars Odiņš, former owner of Kurzemes finieris
The Dienas Bizness award Gazele was presented to Kurzemes finieris in 2012 for the increase in the number of employees and in 2011 as the fastest-growing company in Kurzeme. At that time, Dzintars Odiņš was the chairman of the company's board, and his father Dainis Odiņš was the actual owner of the company. Both are currently in debt, and Dzintars Odiņš claims that for more than five years he has been unable to open an account with Latvian banks, which he believes is the result of a fictitious debt created after the company's insolvency proceedings were closed, reports Dienas Bizness.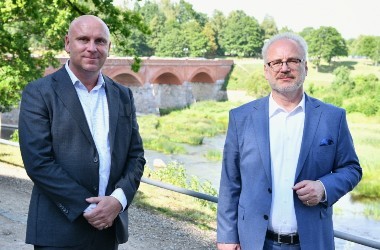 Dienas Bizness asked Dzintars Odiņš how he went from being the manager of the fastest-growing company to a situation where it is difficult to make basic payments and impossible to open a bank account.
Let's start with a look back in history - when was the idea for the company born, when did you found it?
The idea was born in 2005. We decided on the location. In 2006, we founded SIA Kurzemes finieris. We bought land in Kuldīga, it was two old sawmills for sawing tare boards. We took some old equipment from Vulkāns in the hope of adapting it for production, but it didn't work out.
In 2006 you started to operate, to produce?
No. That year we started renovating the hangars we had bought.
Of course, we were ambitious, we wanted to grow fast, to create jobs, to export. In hindsight, maybe you could say that we were too ambitious, but there were no real mistakes, everything was planned correctly.
You were awarded the Gazele for rapid growth in 2011 and 2012, how did you get there?
After the reconstruction of the premises, we mortgaged the factory to the Hipotēku un zemes banka, took out the first loan for the equipment. We installed the equipment and took out a second loan for the dryer, for the boiler house. That's when we started to grow rapidly. Both the bank's experts and the consultants we consulted considered the business plans sound, well thought out.
What equipment did you buy when you started production - new or second-hand?
We couldn't afford new, we bought second-hand. New equipment was planned for later at a cost of 5.5 million euros. It was planned a little later. In September 2008, we had a visit from a bank commission to see how the first peeled veneer sheets were going. We started drying the trees. We started to sell the peeled veneer sheets. That was our first product.
Was it sold outside Latvia or here?
Only export! First, we sold to an Estonian company, then to Scandinavians. Only when we set up the press did we start gluing the veneer. The very beginning was at the highest point of the previous crisis - in 2008. It was slow going, of course, but we learned a lot during that time. After the crisis, there was a major rebound. We were producing low-end plywood, our products were in high demand and were quickly sold. Then, in 2011 and 2012, we won the Gazele prize. However, the market for wood products is very volatile, as we see now as well. We were also doing worse for two years from 2012 because of global price fluctuations. For two years we were operating at a loss of 300,000 euros per year, but such losses did not seem critical for the existence of the company. We knew, like everyone else, that prices would rise again and that there would be good years.
What was the reason for the losses?
We were looking to produce higher value-added products, we were planning new facilities to produce world-class products, and there was interest from IKEA. From 2012 onwards, the price of our products dropped dramatically, cheap products from Brazil and China came to Europe and the price of our plywood dropped. Two years went by in losses because of that. It brought us down to our knees. In 2014, I realized that it would be good to attract an investor with deeper pockets. We are, after all, just Latvian entrepreneurs, a family that started from scratch, invested our savings and forest property to develop the production facility. We do not have the ability to take a few million from private individuals when we need it and invest in the company. We decided that we needed a bigger, stronger partner who could help us pull through these low years in the market, so that we don't have to lay off staff, so that we can continue to grow in these low years.
Did you have any luck finding any?
Yes, we spoke to the Mediena group in Klaipėda because they were interested in raw materials that could be used to produce parts for IKEA. Latvijas Finieris was also interested in the partnership. We were looking at different possibilities from potential partners, but that's when [Andris] Ramoliņš (pictured with the President of Latvia Egils Levits) showed up with Stiga RM. He showed up on his own. We had accumulated a small debt for trees to Stiga RM, which was the reason for the negotiations initially, but actually, he had heard that we were looking for a partner and he was very interested, very friendly, very understanding.
How big was the debt?
In 2014, the debt to Stiga RM for the trees had accumulated to about 65 thousand euros. There were also small debts to other suppliers of birch veneer logs, but they were understanding due to the market situation.
Did you come to an offer of cooperation?
Yes. Word by word, he asked me to show him the factory. We walked around, I told him my plans. He offered to work with me, offered to become a partner.
Not to buy the factory?
No, he offered a split of 60% to him, 40% to me, and we liked that offer. He was very understanding, very energetic, he said that Latvians should work together, not sell their factories to others. He inquired in great detail about how we work. He wanted to know everything: customers, suppliers, development plans, what projects were already written, how to expand production, how to better market our products, which plot of land we should buy to expand. I also explained everything very openly, showed it, explained it, as I would to a prospective partner. We became almost friends, that was the relationship.
Was there any practical confirmation of this friendship?
After that conversation, he delivered six truckloads of wood to us, which was seemingly a good help, but as it happened, the debt to Stiga RM rose to 83,000 euros. As a prospective partner, he came every week, talked, looked. He said he was ready to invest, but he needed to see the balance sheets, the accounting data. He asked about the bank and said that we might have to talk about deferring the loan. Then the drafting of all sorts of tricky contracts started. We went for lunch, talked and talked. I trusted him completely, I fell for the talk that Latvians should stick together, that we would work together and we would move mountains. We went to Riga to see the lawyer Mārtiņš Krūms, and again he looked at all the parameters of the company.
When I had told, shown and explained everything, introduced him to the bank, suddenly, like thunder from a clear sky, a letter came that I owed this much to Stiga RM for the trees. There was a delivery schedule, amounts, repayment terms. I call him, tell him I can't repay and he knows it, but he says it's nothing. It's just a formality, if I can pay, then I pay, if I can't, then I don't. I even started to pay something back, but suddenly there was a notice from the court to open insolvency. My future partner and investor filed for insolvency against me!
How did you feel, what was your reaction?
It was, to say the least, not at all what we had been talking about all these months. On the contrary, I felt badly cheated. If I had known that he was a swindler, I would not have wasted time with him, I would not have laid out all my plans to him like a good friend, I had other potential investors, other ongoing negotiations that I could have continued.
When did this happen?
The letter came in mid-October 2014 and the insolvency was declared on November 15. After the letter, he did not speak to me again, they said I was not a serious partner, in short, I was no longer interesting to him. From then on, everything happened at lightning speed. It turned out that, in fact, this process of taking over the company through insolvency had been going on behind my back all along, and it was carried out quickly and precisely like a military operation. It is no coincidence that insolvency administrators with well-known reputations were involved.
What happened next, after November 15, 2014?
Insolvency was declared. The insolvency administrator Andris Bērziņš arrived and the bank changed the security guards. Stiga RM immediately became a tenant of the company, right after the insolvency, in November 2014, and in December 2014 it became the owner of all the company's assets, buying the bank's assignments from the Hipotēku banka.
With the arrival of the insolvency administrator in November, a representative of Stiga RM, Viesturs, who later became the company's production director, came to Kurzemes finieris. I was left only with debts.
What debts, if the assignments were sold?
Both to the bank and to some lawyer, Krūms. So that I do not in any way oppose all their schemes, which were implemented by Stiga RM together with the administrator and the bank. They made it so that I am still in debt to that Krūms. I was threatened with criminal proceedings for having embezzled from the company. Later on, the administrator verbally stated that I was lucky that there was no criminal case. I was also, I must admit, a little stunned and in shock at the time that the company could be taken away so easily. We only owed 65,000 euros to Stiga RM in the beginning, that's where it all started! Then Ramoliņš pretended to be a friend and a partner, when in fact what was happening was a raiderism. In order to completely paralyze me, I was threatened with criminal proceedings. Now the banks won't even open accounts for me, except for Pasta banka, where they opened an account for me so that I could have my salary paid.
What prevents you from opening an account in the unified system?
I went to the banks, I showed them my passport, and they said in return: we cannot open an account, see, Hipotēku banka has blacklisted you. For that reason, I am not welcome in the banking system.
So you will fight for a fair resolution?
Yes. There are questions about why the bank assignments were sold, why there was no auction on them, because there usually is. There are questions about how the administrator acted, about how this debt that does not really exist - more than 200,000 euros - goes to the lawyer Krūms and why. Everything about this takeover of our family business is a bit like a raiderism, and I am not willing to owe a debt where I am in no way to blame. My aim is to restore normal life for myself, and I want to remove these debts in my name, both in the case of the bank and in the case of Krūms. The total debt I would have to pay is close to half a million euros, and I cannot earn that in my lifetime! The claim is also jointly against my father.
Republished from Dienas Bizness.
*****
Be the first to read interesting news from Latvia and the world by joining our Telegram and Signal channels.